To get a body that is always healthy, make sure to consume enough vegetables and fruit every day. Make sure that at your dining table are processed vegetables that are ready to spoil your tongue and family. Talk about vegetables, this time I'll give you a practical recipe to stir-fry spicy chayote squash to make it delicious.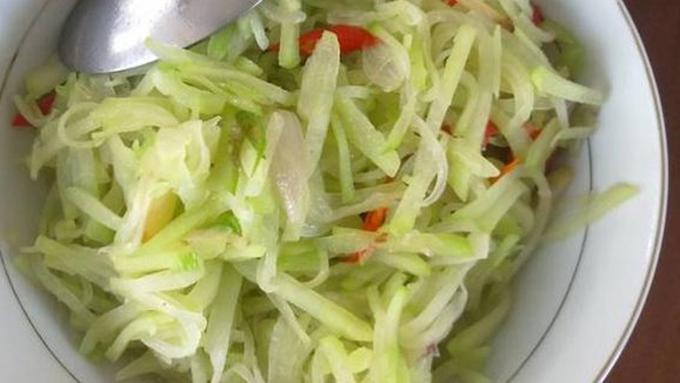 Ingredients
1 chayote squash (peeled, sliced thinly lengthwise)
3 large red chili (remove contents, sliced)
7 pieces of cayenne pepper (sliced)
3 cloves of garlic (thinly sliced)
2 red onion cloves (thinly sliced)
Salt to taste)
Sugar (to taste)
Chicken broth powder (to taste)
Pepper powder (to taste)
1 stalk of celery leaves
Oil
How to make
Heat oil, saute garlic and shallots until fragrant.
Add large red chili and cayenne pepper to the pan.
Add sliced and washed chayote. Stir until smooth.
Add salt, sugar, chicken stock and pepper powder to taste.
Stir-fry until all the ingredients are cooked and the spices soak into the chayote vegetables.
Lift the sauteed chopped chayote, serve.
A recipe that is very easy, ladies? If you want to make more delicious sauteed squash, you can add shrimp to this stir-fry or just add shrimp paste.
Good luck and hopefully the family at home likes it.